My Work in Four Themes
This is an overview of work, both realised and in progress, in
light design, scenography and multimedia.
I have organized it into four themes. Of course the themes overlap.
Themes in My Work
Environ/Man

Environ/Man 0.5
PRETTY HOW TOWN
Children of the Earth
Hexagons
Syncroom
Synchronicity

Eelste Meyma's Mausoleum
Kleurengeluidsignaal (Colour Sound Signal)
Tehillim Illuminated
Sulphur, Wax & Sugar

Anamorphology

Would You Wonder Off
Wygiswysee (what you get is what you see)

Spatial Cinema

The Family Reunion
Now The Stew How Saw
 ¶
Theme 1.
Environ/Man
Man is (self appointed) steward of the globe and at the same time dependent on nature and its resources. His insatiable hunger for economic growth and expansion of power make a paradox between this stewardship and the exhaustion of the planets reserves and recluses.
The theme investigates similarities between the human body & landscapes. It provides an integrated multimedia experience to the visitor of the installations.
Below are five projects that fall in this theme. Clicking on the title above will bring you to a collection of entries about this theme. Clicking on one of the project title below will show the different entries on this website relevant to that  specific project.
Multimedia installation with live music & performance; life sized objects, video, sound. The installation can be placed in a theatre room or a multifunctional venue. Local professional artists, amateurs  or students will collaborate in experiments with space, image & sound. The work is in progress.
Click here to see the "aftermovie" of the first try out, November 2015.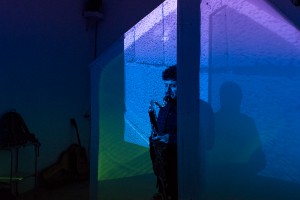 Installation, occasionally with live perfomance, based on a poem by ee cummings. Space, shape, speech, sound, images.
A series of photo montages combining human bodies with land – & city scapes, waters, skies, leaves. Click on the title above to see some examples. The images can be printed at approximately 35 by 50 centimetres, exhibited & sold.
¶
A series of graphics, combining geometrical shapes & photographic images. These images can also be printed, exhibited and sold.
A tent made up of three or four big semi-transparent projection screens, in the middle one or two chinese poles of about six meters high, in which my son Benjamin will perform; projections of abstract & processed live imagery. Plans in progress.
¶
Theme 2.
Synchronicity
The challenge is to allow visitors/participants to experience art through several senses. To surprise with rich sensory stimulation.
Synchronicity & synergy of sound/music & imagery/colour; similarities, mutual enhancement, multi sensory experiences
Epitaph for Eelste Meyma
Composition Anke Brouwer
for soprano, tenor, violin, recorder, lute & chimes.
(2014)
played by Super Librum, ensemble for medieval music
&
Eelste's Crypt
Images by Carel fhm Kuitenbrouwer
(2016)
Kleurengeluidsignaal is a composite word made up of colour, sound & signal, invented by H N Werkman, Dutch printer & graphic artist (1882-1945). I chose it as the title of a work for choir, symphony orchestra, soundscape & video. In collaboration with Anke Brouwer & in commission of Kamerfilharmonie Der Aa, Groningen, Netherlands.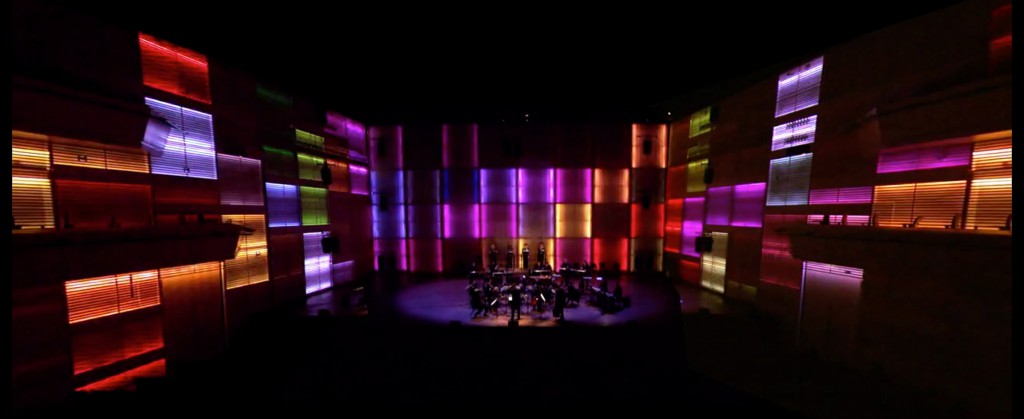 Light program for the LED-walls of Muziekgebouw a/t IJ to accompany the performance of Steve Reichs pivotal piece Tehillim (Psalms), 1981. In collaboration with Steve Reich, ASKO|Schönberg Ensemble, Frank Daalder, Clive Rundell.
Sulphur, Wax & Sugar, a spatial light-/music/sound spectacle in Muziekgebouw a/t IJ. Collaboration with composers Anke Brouwer & Martijn Padding, ASKO|Schönberg Ensemble, Holland Festival, Muziekgebouw a/t IJ.
Theme 3.
Anamorphology
What you see is not always what you see. My videos & graphics contain layers and facilitate multiple interpretations. I extend this 'principle' of surprise and wonder into 3D-space. Objects are placed in space, the perspective is distorted, the viewer is seduced to imagine what is not there.
A walk through a park or wood along a trail of objects in anamorphic arrangements: perspectively distorted geometric shapes, frames, planes. In part big & strong enough to carry visitors (children!).
The work is intended for public spaces that temporarily or permanently stage art pieces, such as parks, buildings, festivals. In development, proposals available.
Words in space; anamorphosis with texts, lines, words, letters, kalligraphy.
The idea of 'looking beyond', poetically formulated and spatially presented. About ten lines that I wrote myself, split up in parts, sometimes words; panels or signs on trees, branches, posts.
This work also is intended for a (semi-)public space, where people wander & wonder what the words mean, until they reach a spot from where it all comes clear, the puzzle fits. And yet it doesn't quite.
I made several sketches for big pieces in public space. This is one example. More on the rest of my site.
Above: a dynamic typographic interpretation of cummings' poem.
HOW TOWN (working title) is an installation based on the poem by ee cummings any one lived in a pretty how town. The video above is a first exploration, A spatial/environmental rendering is in preparation.
cummings describes & analyses the pettiness of ordinary people poignantly & at the same time affectionately; he makes the ordinary special.
Collaboration with Ab Baars (clarinets/saxes/shakuhachis) & Martin Reints, poet/translator.
Projectplan under construction, sketches available.
¶
Theme 4.
Spatial Cinema
Spatial Cinema deals with archetypical narratives such as the Western film or theater pieces on family relations.
In involves space, performers, objects, video, sound. The settings are more or less those of a theatre piece, although the classic devisions between stage and stand and between audience and performers are also under investigation within this theme.
Semi abstract, semi narrative, atmospheric, metaphoric, symbolic.
Old social patterns in nuclear families, originating in childhood & puberty of the siblings & early 'beginners' parenthood persist through adult life of the siblings and re-emerge in family gatherings. Or, conversely, family events are sources of regeneration of feelings of unconditional love and affection.
What would the outcome be if my children, both active in the performing arts, come together in a creative process with their parents, both creative entrepreneurs.
Collaboration with Yinka Kuitenbrouwer, independent actor/theater maker in Ghent,
Benjamin Kuitenbrouwer, alias Monki Business, Chinese-Pole-acrobate &
Ange Wieberdink, producer, filmmaker.
Concepts & plans are in collaborative development
Abstract music theatre piece (aka spatial film or abstract opera) in five acts, five musicians, five dancers. Objects, dynamic & spatial imagery, lights, video.
Loosely based on the great Western film How The West Was Won.
Central theme: (Western) Man's insatiable drive towards pioneering, exploitation & expansion; the paradoxical side of that drive: the destruction of virgin nature and the creation of scarcity & inequality, migrations, conflicts.
Plans in development.